Technology
The secret to the long shelf life, strength and aroma of Express Coffee is only possible by employing the latest technology.
Coffee Beans
Handpicked coffee beans grown on the mountains of Chikmagalur are used in the preperation of Express Coffee blend.
Blending
Our modern grinding and blending techniques make the Express Coffee stay fresh for a long time.
Packing
Express coffee bags come with a valve from which the aroma can be felt without losing out any freshness.
Our Products
You can rely on our amazing products and also our customer services will be great experience for you without doubt and in no-time.
You can Rely Upon Express Coffee
Our customer service is focused on providing the best support & service to our customers. Reach out to us for any issues, complaints or suggestions.
What Our Customers Say?
Our customers have liked our coffee. Did you?
Here is what our amazing customers have to say about Express Coffee.
I have tried many different coffees before but Express coffee has the most authentic south Indian taste due to perfect blend of Coffee and Chicory without too much diluting the coffee flavour. Express classic and Ujwal offer enjoyable blend with right bitterness one can expect from pure Chikmagaluru coffee

Pruthviraj Kowri
Owner, Kowri Estate, Koppa
I love this coffee, it's great, tasty, priced and delivered perfectly. Good part is, you get an option to buy freshly roasted coffee beans from Express Coffee, packaged nicely in aluminium foil sealed covers. Try this amazing roasted bean if you like to brew your own coffee.

Pallavi Gowda
Executive Operations, Axis Bank
Strong, bold and superior quality coffee. My family loves it. It came packaged well with food grade aluminium foil covers, Vacuum sealed for freshness, shelf life is never an issue. I highly recommend trying Express Coffee products.

Geetha Thimmaiah
Housewife, Shivamogga
Excellent coffee with excellent price. Products are superior to just about all other brands. I admire the consistency and taste of Express coffee. Delivered quickly with nice packaging. Highly recommend to try. Would purchase again.

Rajesh Gowda
Technology Manager, Hyderabad
Express Coffee has some of the best coffee to offer. I particularly liked Royal Roast which is pure coffee that makes a pretty strong and great tasting coffee. I would recommend everyone to try this amazing coffee!

Roopa Hegde
IT Project Manager, Hyderabad
Love this coffee. Rich, flavourful best tasting coffee for the money. Coffee is very smooth brown without any bitter taste. One of my favourite roast coffee. Price and service are great. I will buy again.

Rajani Prathap
Co-owner, Gajanana Coffee Estate, Bankenahalli
Our Dedicated Team
Express Coffee is very fortunate to have highly motivated and visionary founders establishing the brand of Express coffee. An uncompromising dedication and persistent hard work made it possible to realize their vision.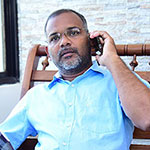 Ramesh M S
Managing Director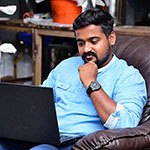 Durga Charan K S
Director
Write to us!
We would like to hear from our customers about anything they have to say.